Later this week, I will be starting night shifts on site at one of the busiest NHS hospitals in London. The NHS is close to hitting the "surge capacity" mentioned in an Official Sensitive report of the Health Department – and I need to bring this to your attention because the healthcare establishment is keeping remarkably quiet. For many years, we have lived in a so-called democracy, where people exercised their political rights by voting on questions after campaigns of misinformation, disinformation, or simply no information. This was sustainable until the COVID-19 crisis, but we now face the reality that transparency is not an ideal during a pandemic, it is a necessity.
Our political leaders are not very good with transparency, because they do not live in the "real world" of hard consequences that we normal mundane citizens inhabit. Unfortunately this is as true for many leaders of our medical establishment – who have long since had their Hippocratic Oaths sullied by the allure of political gratification or ineffective healthcare leadership, which have turned out to be much the same thing
I will talk more on transparency later, but it's worth pointing out that an authentic healthcare crisis has finally revealed how palpably ineffective our political healthcare leaders are. Their woeful inaction has contrasted dramatically with the quietly heroic NHS staff working on the ground. The NHS's true leaders are on the frontline treating patients, not in the Royal Colleges, not in Skipton House and certainly not in BMA House. I resigned from one of a handful of national seats on BMA Council on 11 April 2020.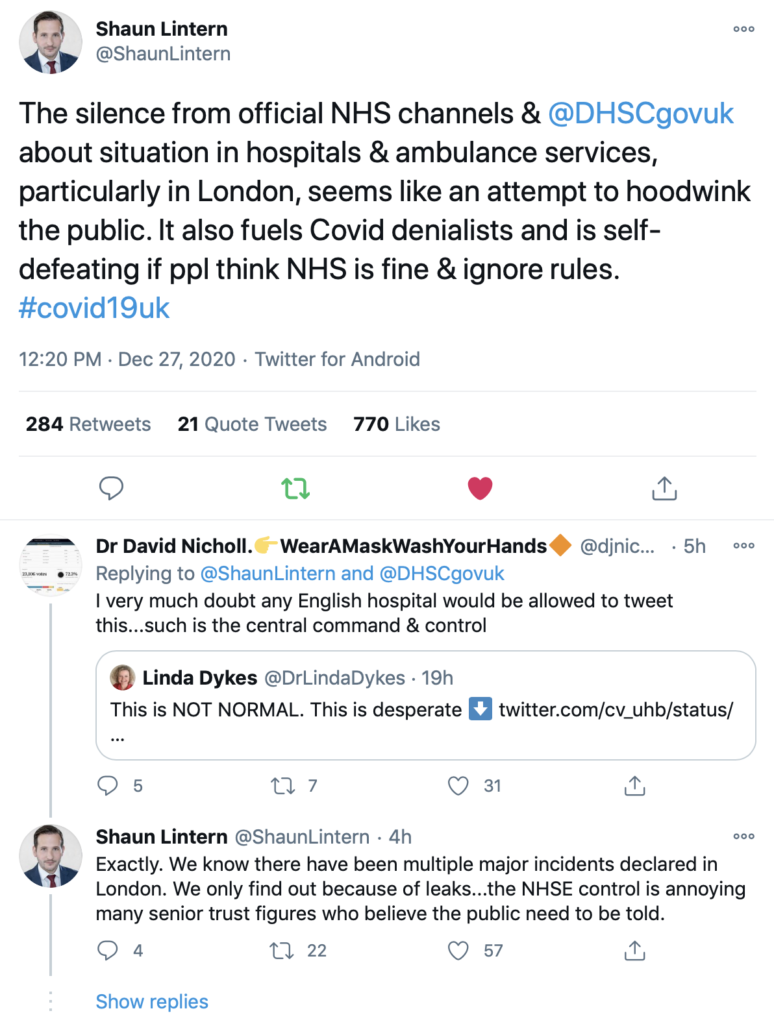 Both the BMA's and NHS England's respective boards of directors remain remarkably reticent about the unprecedented crisis which threatens to envelope the NHS in the next few weeks: ICU beds in London are currently filling up fast with COVID-19 patients. Perhaps more seriously, the Health Service Journal reported that my local NHS Trust had 33% Covid-positive beds on 21 December, and my personal experience is that – unlike the first wave – large numbers of NHS staff are being tested COVID-positive. Worse still, the pandemic has been trending sharply upwards during recent weeks, and we are fighting blind for the next few critical days because reporting mechanisms and NHS staff testing are suspended over the Christmas holidays. 

Instead of raising the alarm about what (predictably) lies ahead, healthcare leaders have followed the Government's self-congratulatory vaccine narrative, or made irrational public statements defending the medical establishment's lack of transparency. Few have had the courage or independence of mind to speak up in the public interest. 

We may be heading towards NHS surge capacity and population triage – in other words, refusing NHS care to large numbers of sick patients. We need to inform the public urgently before we reach that point.
Let's be clear: There is no excuse for secrecy during a pandemic.
The Institute for Government have clearly stated in their recent report that lack of transparency has a negative effect on public understanding, and in turn on public compliance with the Government's COVID-19 strategy.