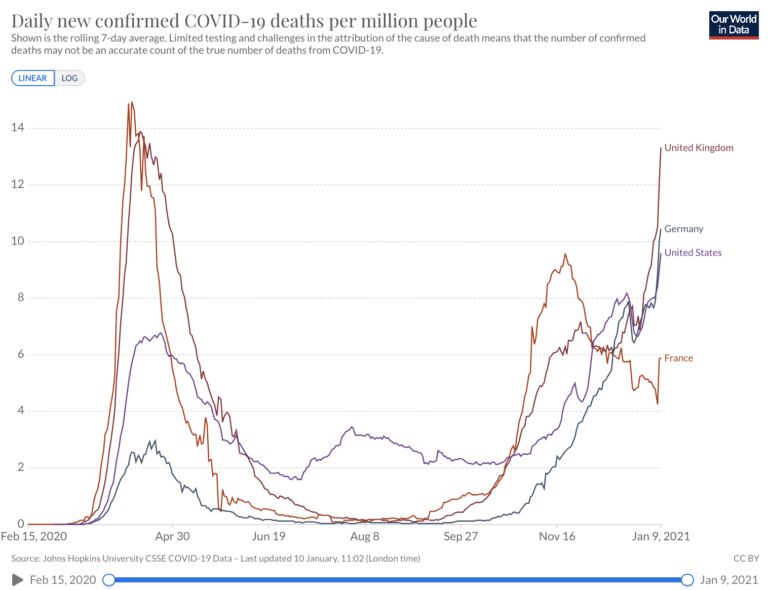 A predictable tragedy
Would you feel upset (is that too light a word?) if I now told you how predictable this second wave was? In fact, as early as 1 June 2020, our application for judicial review provided a British judge with repeated warnings about the risk of a second wave. Tom Hickman QC (our formidable barrister) argued this was the risk which made it essential to disclose all the data and policy papers which followed the UK's secretive national pandemic exercise in 2016.
Fundamentally, we were arguing for transparency in the public interest (for those of you with legal inclinations, we relied specifically on the Civil Contingencies Act). Unfortunately, the English judicial system has proven unequal to checking the Government's Executive power amidst the sheer ferocity of this pandemic. We had to wait 3 months (or 40,000 deaths) before a judge decided that not one of our arguments were worthy of being heard in court, and moreover emphasised in his ruling that any appeal against his decision should not be expedited. The dog has been muzzled even without the intervention of Lord Faulks QC.
You might want to ask yourself: How much of the British population needs to die before the judiciary decides it's in the public interest to allow legal scrutiny of the Government's management strategy?
Who's surprised by the multiply-mutated mutant?
You may have gained the impression from the Government's recent updates that the new strain of COVID-19 was a surprising event which the Government could not possibly have predicted. During my PhD in Cambridge, I dabbled around with a virus to introduce a cancer mutation into cells – I'm no professor of virology, but even I know that RNA viruses are inherently unstable and recurrently mutating. That's not new information, it's been published as early as 1978.
It's true that coronaviruses attenuate this constant RNA mutability to some extent with a proofreading capability, ie they can look for nucleotide mutations and correct them (note that this proofreading mechanism is a double-edged sword because it can also disrupt potential anti-viral therapies!). However, the fact is that, despite proofreading, over 1200 mutations had been identified in COVID-19's nucleotide sequence in July 2020, and there will be many more mutations now.
The new variant alone – VOC 202012/01 – contains 23 mutations! In addition, coronaviruses show recombination when two viral genomes co-infect the same cell, and this can drive host-to-host transmission, zoonotic infections, and the emergence of novel coronaviruses such as COVID-19. To date, there have been several important variants including the original COVID-19 genome published in January by China, the D614G mutation which emerged in January/February and became the dominant virus by June 2020, the 'Cluster 5' variant identified in Denmark, the 501Y.V2 variant in South Africa, and our own very English variant.
Put simply, COVID19 is a bad-ass virus which mutates, can jump from animals to humans, is tricky to treat with drugs, and which we didn't have any vaccine for. It didn't take a rocket scientist (pun intended, see the graph at the top again) to understand that the longer you left that virus passing from host to host, then you took the predictable risk that one of those mutations was going to develop a survival advantage and spread like wildfire.
'C19 is a bad-ass virus which mutates, can jump from animals to humans, and is tricky to treat with drugs. The longer you left it passing from host to host, you risked those mutations would develop a survival advantage and spread like wildfire.' Click To Tweet
The consequences of poor transparency during a civil emergency
Bearing in mind the predictability of the current crisis, the following question arises: Why did the Government do so little to prevent it, indeed why did they implement policies such as "Eat Out to Help Out" which predictably accelerated COVID-19 transmission?
To some extent, the Government's policy-making would have involved a mathematical calculation of the value of each person's life. We have uncovered pandemic preparation emails between NHS England and the Department of Health from 2017 which did exactly that, evaluating the impact of pandemic interventions on "lost years of useful life". The Government will have asked Public Health England and NHS England who was likely to die in the current crisis, and will have factored in the social, healthcare and economic impact of various interventions.

However, it's also possible that the UK's ongoing sharp increase in COVID-19 mortality is a result of incompetence rather than mathematical calculation, which only increases the justification for transparency. For instance, it transpires that Rishi Sunak did not run his "Eat Out to Help Out" campaign by the Government's epidemiologists before implementing it, he just made a short-term economic calculation of gain and did not even consider what the policy would do to COVID-19 transmission, which in turn made him oblivious to the long-term economic consequences of his policy. Transparency may have protected us against this incompetence and many others.
The next two weeks
Over the next two weeks, we will see an unprecedented phase of this national emergency. Our NHS will be overwhelmed in a way which has never happened before in its history. Perhaps unwittingly, Chris Whitty recently warned BBC Breakfast, "This is going to be a significant crisis for the NHS unless we take evasive action". In fact, constant evasive action has been one of the cornerstones of the UK's inept pandemic strategy from the start of this crisis. The Department of Health has a national guideline for this civil contingency, but it continues to block disclosure of this plan to the public. Worse still, it has refused access to this plan even to the NHS professionals who are putting their lives on the front line, so much so that individual NHS Trusts are drawing up their own civil contingency plans. This represents an abdication of leadership by both the Department of Health and NHS England.'The Govt continues to refuse to disclose its national guideline for surge capacity, even as NHS Trusts are overwhelmed with COVID-19 cases. This represents an abdication of leadership by both the Dept of Health & NHS England' Click To Tweet
On 14 February 2017, following Exercise Cygnus, NHS policy-makers discussed in secret email communications that the "trigger point for permanent withdrawal of ventilation… would be no more capacity and increasing numbers of patients likely to require it". It will be for a future public inquiry to examine why – following this discussion – the UK continued to provide such a poor ventilator capacity compared to the rest of the developed world. For now, NHS healthcare professionals and the public need to prepare urgently for what lies ahead.
We cannot have Mr Gove announcing on television again that the Prime Minister failed to lead in this crisis because the chief medical officers had not informed him there was a crisis. Data suggests that in the next two weeks, London' intensive care capacity will be overwhelmed, and in that case Government policy may rapidly move from "Eat Out to Help Out" to a tragic future policy of "Stay Home and Die Alone". Remember that London has an unusually high number of ICU beds, and the consequences if the new COVID-19 strain spreads to less well-resourced regions of the UK will be devastating. The Department of Health needs to urgently communicate its secret guideline for surge capacity to NHS Trusts and healthcare professionals who are managing this crisis on the ground, and have an honest conversation now with the British public. 'Govt policy could rapidly move from 'Eat Out to Help Out' to 'Stay Home and Die Alone'. It needs to urgently communicate its secret guidance for surge capacity to NHS professionals, and have an honest conversation with the British public' Click To Tweet